Senior Member
Join Date: Jan 2013
Location: Baldwin Park, CA
Posts: 595
Mentioned: 1 Post(s)
Tagged: 0 Thread(s)
---
Both were the same from day one in 1983 to 1989 I swapped parts from both cars and they all said dymler chrysler with mitsu in the bottom. You can debadge the chrysler and swap tail lights and make it look like a chrysler that was the only difference between both the tail lights
Sent from
AutoGuide.com Free App
---
2014 Nissan Altima 2.5S
DESIGNERII for SNAP-ON TOOLS
Senior Member
Join Date: Jan 2008
Posts: 457
Mentioned: 4 Post(s)
Tagged: 0 Thread(s)
---
Wierdly enough the car i would like to have back would be my 87 Honda Civic Wagon, it's also the most similar to the xB but a little smaller. I think it has a lot to do with it being my first new car and the one I had through my senior year of high school.
Senior Member
Join Date: Dec 2013
Posts: 149
Mentioned: 0 Post(s)
Tagged: 0 Thread(s)
---
Definitely gotta be my old 1971 Camaro, the experience of the build, crushing cars out on the street that cost more than 10x what I spent on it, pure American muscle. Economy hit me hard, and had to sell it before I got a chance to complete it. Now that I think about it, I'm pretty much one of the most unusual people to own an xB, let alone this is my 2nd one lol.
Super Moderator
Join Date: Oct 2012
Location: Grande prairie, AB, Canada
Posts: 709
Mentioned: 0 Post(s)
Tagged: 0 Thread(s)
---
My 84 fiero.. the wheels so big it looked like hotwheels on that tiny car.. I dont know why I sold it
---
2008 RS 5.0 (569)
18" ADR rims, falken tires
Angel eyes, Black heat shield
Hotchkis front sway bar
Python remote start/alarm
Interior and grill LED's, Nintendo 64
Wink mirror, 24kt gold shift knob
2 12" subs, amp, touchscreen deck
220 psi train horn/compressor
Scissor/Lambo doors
Royal Floor Sweeper
Join Date: Jun 2008
Location: The Sticks, South Carolina
Posts: 4,312
Mentioned: 0 Post(s)
Tagged: 0 Thread(s)
---
This thread got me running my Miata again. Now, I've resolved most of the issues. What's left is more cosmetic stuff. Not cheap, but cosmetic.
---
Traveller 3/ Spectre 3
Imperial Navy
337th Imperial Support Squadron
181st Imperial Fighter Group
Jolly Roger Detachment
501st Legion
_______
//__|___\___
[(+)____(+)_)
Tie CWT
"I don't eat nuts, I'm not a cannibal."

Member
Join Date: Nov 2012
Location: georgia
Posts: 35
Mentioned: 0 Post(s)
Tagged: 0 Thread(s)
---
I had a 79 Hurst olds that I really loved then I parked it in the garage for a while and everything just started falling apart. It was the black and gold model with his and hers shifter. I should have kept it.
If you could have back any of your previous vehicles...
---
I had a '92 Corolla GTi hatchback. 4AGE motor with full exhaust and intake. I did wheels, suspension, custom installed alpine stereo with 2 12" subs in the trunk, a couple of other interior mods. It was my first bought car (my first car was a 1977 corolla wagon from my grandfather) and I had it for 7 years and it went hard with no problems. I gave it to my brother when I moved to the US. He dropped me at the airport and on his way home, got sandwiched between two trucks. It was a sad day.
Sent from
AutoGuide.com App
Super Moderator
Join Date: Oct 2008
Location: Poconos
Posts: 846
Mentioned: 0 Post(s)
Tagged: 0 Thread(s)
---
My first car, it was a 1970 Chevelle with the 396...way too much car for a 16 year old to appreciate.

oh the days of sub $1 a gallon gas!
---
RS 8 #72
Senior Member
Join Date: May 2011
Location: California
Posts: 1,021
Mentioned: 0 Post(s)
Tagged: 0 Thread(s)
---


My brother wanted the 396 with 4-speed manual but had to settle for a 350 with 3-speed auto. It was a great cruising car (2.56 read end IIRC) but a bit slow off the line.
---
BrickPig
2011 Stingray Metallic (May 2011) Auto, floor mats
Mods:
Bosch fogs*16x7 Drag 34 wheels (gunmetal)*Wing Tech rear wing*3A Racing exhaust tip*Front RF P1675-S/rear Kicker DS65.2 speakers*leather steering wheel cover*Mustang front lip*sunstrip*Fiamm horns*Prius wiper switch*NF210 springs*strut brace*OH console*TRD rear sway*BMW E46 vents
Homebrew:
front air intakes*CAI*lots of LEDs*front door armrests*8" subwoofer*C-pillar nets*DRLs
https://sites.google.com/site/brickpigs2011xb/home
---
My 2004 Toyota Matrix XRS.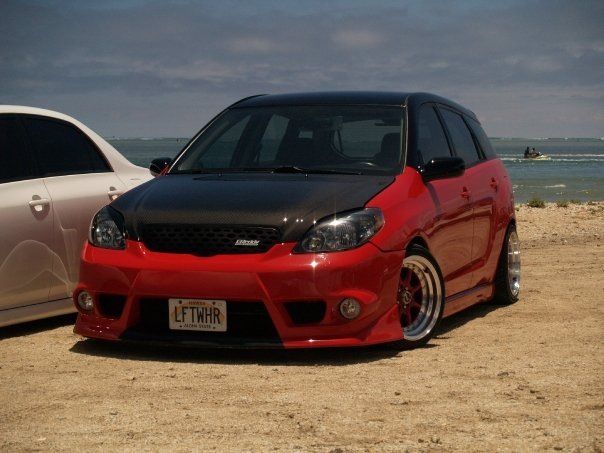 CF hood, TRD Celica Front bodykit, Megan Coilovers, full magnaflow catback exhaust, HPE headers, Injen CAI, SS, ES motor mounts, full sounds, custom painted roof. Sportmax (now XXR) 002 16x8 +0 on 195/45s. Enjoyed putting it in LIFT so much that I blew to top half of the motor. Expired warranty, had to pay $10k outta pocket to fix. Sold it for super cheap because LIFT wasn't the same after the repair.
Sent from
AutoGuide.com App
Posting Rules

You may not post new threads

You may not post replies

You may not post attachments

You may not edit your posts

---

HTML code is Off

---