Discussion Starter
·
#1
·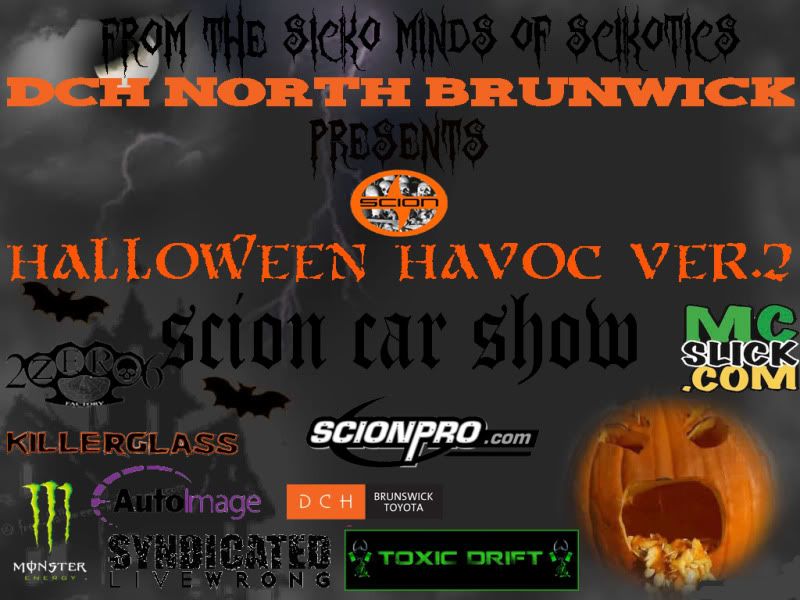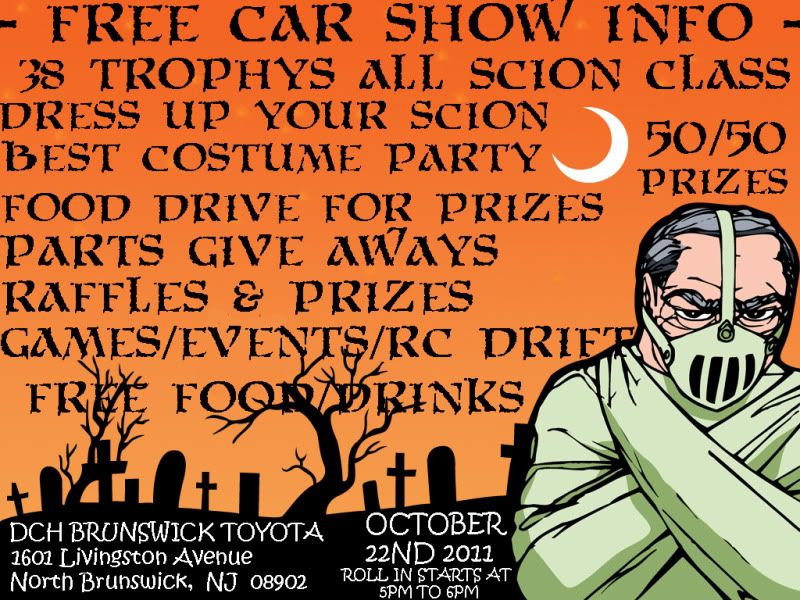 DCH NORTH BRUNSWICK HALLOWEEN HAVOC CARSHOW VER.2 COSTUME PARTY BY SCIKOTICS NJ
DATE OCT 22 2011
TIME 6PM-11PM
ROLL IN STARTS 5PM
JUDGING STARTS 7PM
AWARDS 1030PM
DCH Brunswick Toyota
1601 Livingston Avenue
North Brunswick, New Jersey 08902
''WE ARE DOING A FOOD DRIVE FOR THE SHOW,PLEASE BRING 3 OR MORE CAN'S OF FOOD AND GET A RAFFIE TICKET FOR A GREAT PRIZE (BRING THING'S LIKE CAN VEGTABLES ETC)....
Food Charty Where The Food is going to
Fixers of The Hearts Food Pantry
1210 Cozzens Lane
North Brunswick, NJ
732-297-2792
50/50 PLUS PART RAFFLES,PRIZES AND SURPRISES ALSO GAMES/EVENTS/RC DRIFT DEMO/GUESS THE PUMPKIN
SCION STUFF, SCION PARTS,PARTS FROM SCIONPRO,KILLERGLASS,2ZEROFACTORY.COM,MONSTER,AUTOIMAGE,SYNDICATED-ClOTHING,MC SLICK.COM
MORE SPONSORS TO COME ALOT MORE JUST NEED LOGOS. BTW SO MANY PRIZES IT WILL BE EPIC SO BETTER BE THERE KEEP A EYE OUT FOR WHAT SPONSORS WE ADD BECAUSE THEY ALL GIVE AWAY SOMETHING GOOD!!!
Those that add them selfs to call roll will receive a goody bag and a judging sheet
with the owner's name, model, year, and car #.
Each vehicle thats has can goods will get one raffle ticket for the biggest prizes of the night
More info to come. If you have any questions, please PM me or email me and we
will try to answer them as quickly as possible.
''IF YOU DO NOT ADD YOUR YOUR SELF TO ROLL CALL FOR THE SHOW YOU WILL NOT BE ABLE TO GET PRIZES''
Send Email to
[email protected]
Following information or need help mgs me:
ROLL CALL!!!!!!! IS A MUST!!!!
I'm not assuming you're coming. Please
add yourself to the rollcall.
CARSHOW CLASSES AND CATEGORIES
Scion tC
BEST IN SHOW
1st
2nd
3rd
Scion xB 1st Gen
BEST IN SHOW
1st
2nd
3rd
Scion xB 2nd Gen
BEST IN SHOW
1st
2nd
3rd
Scion XD
BEST IN SHOW
1st
2nd
3rd
Scion xA
BEST IN SHOW
1st
2nd
3rd
Best Vinyl
Best Paint INSIDE/OUT
Best Wheels
Best Engine Setup
Best Stance
Best Female ride
Best Ice
Best Dressed Up Scion
Best Costume
BEST STOCK SCION
Dealer Pick
People's Choice
Sciko Award
Loudest Exhaust
Farthest Traveled
Dirtest Car
Glow Off
HATERS AWARD
Also, this event is open to EVERYONE. You do not have to be part of scikotics attend this event. As long as you are a scion enthusiast, you are welcome so hope everyone comes out
VIDEO FROM LAST YEAR