A good bit depends on which grill you install.
The stock one has a few "poppers" on top (i can't remember their real name, but they are the ones where you "pop" the center up and pull out a plastic clip) into the sheet metal and slide clips (4, as I recall) on the bottom into the bumper.
Removal is quite easy.
For the aftermarket grills . . .
There are numerous types of installs.
Some screw into stock grill. Some require you to simple cover (facade) the stock grill, while others ask that you cut out center of the stock grill and use the edges as a structural frame for the aftermarket grill.
If you want one that uses none of the stock grill, as for a "full replacement grill." Each of these seem to have a different mounting method. Some (as I recall) required drilling into the bumper or metal to create mounting points.
The Sparks slat grill is a full replacement grill that uses 4 "L" brackets and clips to connect to bumper and sheet metal. So, no new holes are created in either.
I painted mine black to match the lower plastic grill in color and texture.
Mine: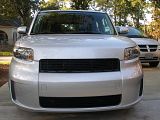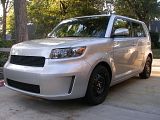 "Skeeter Eater" . . .