I am creating this thread to give a detailed example of the quality of items you can purchase from ebay(good OR bad). I recently purchased a cold air intake, header, axle back exhaust and blank remote key from ebay. The purpose of this thread is to review the items, and give feedback on many items that are often deemed "junk" for those who are curious.I will provide updates if ANYTHING happens with these items, good or bad. (I understand many people think that anything bought off ebay for a vehicle is complete trash, and respect your opinion. However, I respectfully ask that you keep your opinion to yourself, the purpose of this thread is to install, test and give updates on the said items performance and condition over the course of their use).
For all audio/video I will be using a Nikon d7000 with hotshoe mounted rode video mic.
The first item up is the infamous "ebay header". I purchased it for $100.00, with $25.00 shipping, and it arrived within four days! From california to ky!
The good:
1)It IS stainless steel. (Yes, I did test it with a magnet.)
2)The welds look fairly solid, I had a friend who makes custom headers/exhausts look at them for approval before installing.
3) Fitment is great, requiring only "adjustment" of the oil dipstick.
4) No leaks with supplied gasket.
5)If you keep greasy hands off of it, it turns a very lovely color, unless you
WANT a blue"ish" header.
6) It isn't loud. in fact, I put this on my stock car this afternoon, and literally
couldn't hear a difference until I stood behind it while it was revved to
red line. Even then, it sounded very close to stock. If anything, it has a
very slight growl under heavy acceleration in the low end, and is slightly
louder after 5k (please note, slightly louder, NOT raspy.) I imagine the
noise level may change with the intake and axleback.
The bad:
1)It isn't the prettiest thing in the world, there was a small bit of slag on it
from the welder, and there were a few a few dark marks on the mounting
plate.
2) The holes to bolt the header to the exhaust are blank, not threaded. Luckily it comes with five bolts (to hold the gasket to the manifold during shipping). Two of these work nicely to accommodate this problem.
3) You must relocate the oil dipstick (I did this by flattening the lipped
edge to allow me to turn it further left, behind the alternator. Three
minutes, a hammer and a bit of phenagling.
A few oem vs header shots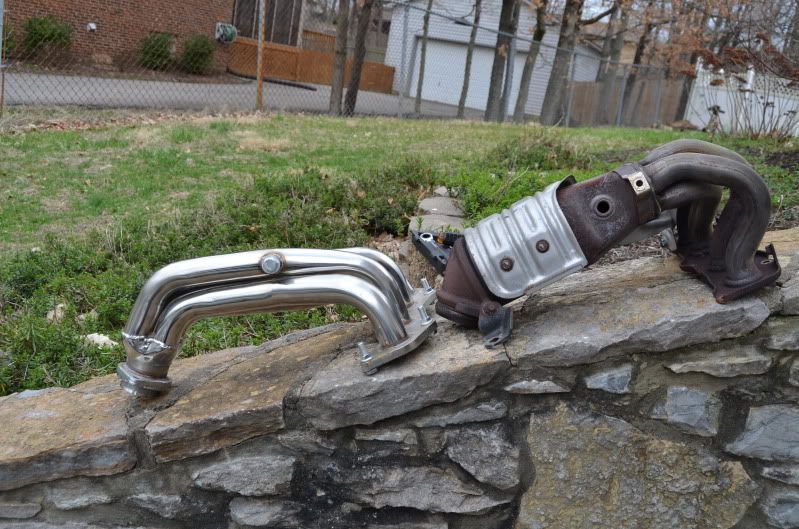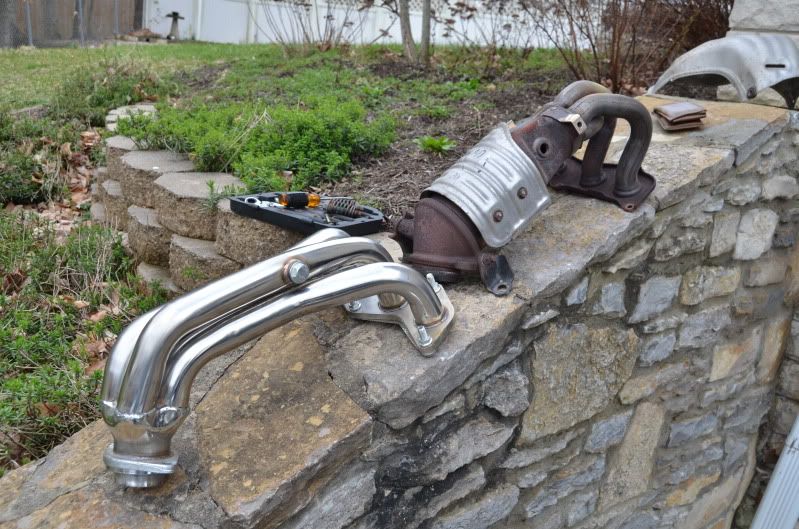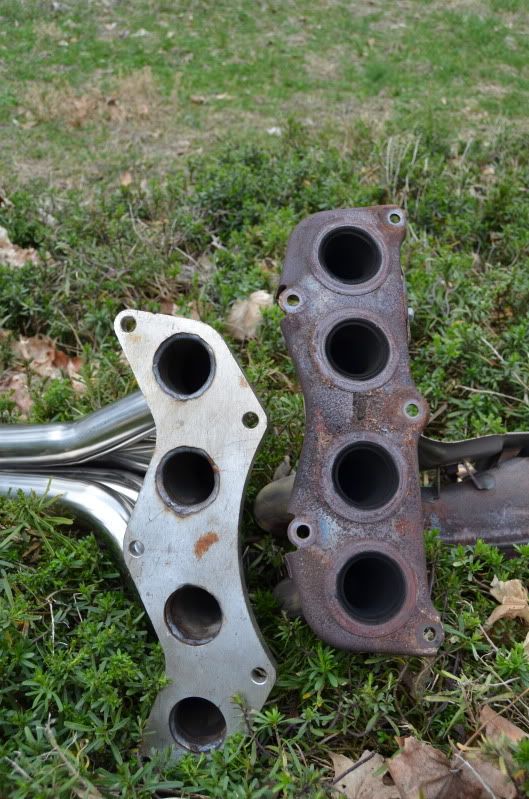 Oem exhaust video for comparison:
After header installation :
All in all....I must say I was actually impressed with this piece. It doesn't look bad, it does what it is supposed to, and it was a bargain. I am currently awaiting photo bucket to upload photos and videos (danged 1080p!), and will post an "after" video tomorrow.
I used the weapon R CEL eliminator, great product, was shipped INSANELY fast from fastscions.com
Hopefully my cold air intake and axle back will arrive on Monday.
Update: Since installing, they have done their job extremely well. I can feel a fair increase in power (mainly in first and 2nd gear after 4k, 3rd gear in the auto is enorous).
No leaks or breaks, and I will soon try washing the header with an sos pad to reduce the blueing from the oil on my hands and give it a nice overall finish.
Here are a few images of the installed header after 3 days of driving (I didn't have any brake cleaner to clean them off before starting the car). Please don't mind my dirty engine bay, I don't have a lower splash shield, so it gets dirty after 10 feet or so.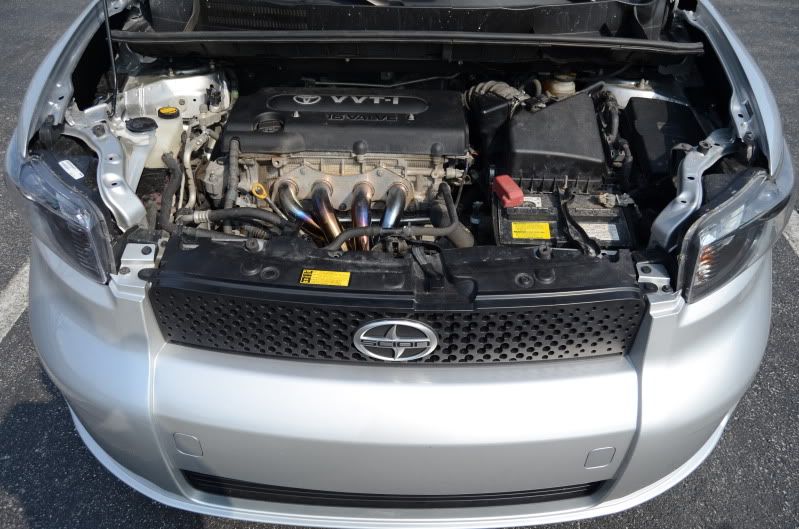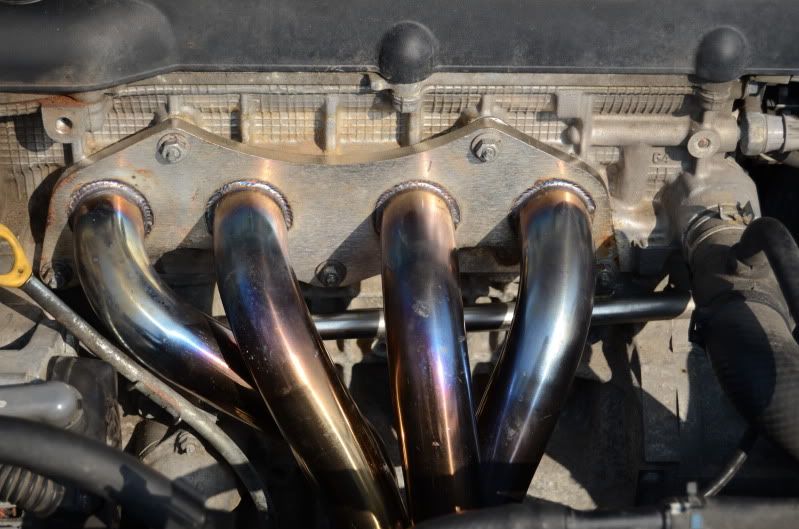 Just a quick FYI on the ebay remote keys: If you don't KNOW someone at lowes, they probably won't cut the key for you. Lowes and a local locksmith refused to cut my key, saying it was a "chipped" key and that they couldn't be held responsible for cutting it, even after I took the remote housing apart and told them it was a blank with a remote (not an ignition enabling chip like they were thinking) for the unlock feature built into the car. They told me to go to the dealer and that no one else would do it either.
Solution? Sweet talk your way into getting it cut at a local walmart auto section when only one employee is there. Tell them you need a copy, then say you already have a blank and KNOW it will work without damaging their equipment. It didn't hurt that I offered to purchase a blank key anyway, and to donate $5 to whatever charity was available to donate to from her register. Took all of 12 seconds and works like a charm, despite her saying "you KNOW this won't start your car sweetie". Already programmed the key per the .pdf file that is floating around this site and love it!
Hoping to have an intake, axle back exhaust and motor mount(not from ebay) to install/review when I get home tomorrow!
Update: The intake just arrived before I left for class!
The intake...wow.....it looks leaps and bounds better than I expected it to for $75.00. It actually looks on par with the tenzo R I saw on a friends xb2.
After inspecting the piece, the filter is similar to the cone filters you can pick up at autozone. The "air turbine" is attached to the inside of the filter, and after tinkering with it, I am just going to leave it on(dont feel like breaking something on a brand new piece).
Here are the obligatory pictures! (more to come once installed, plus a video of intake noise, and change in exhaust).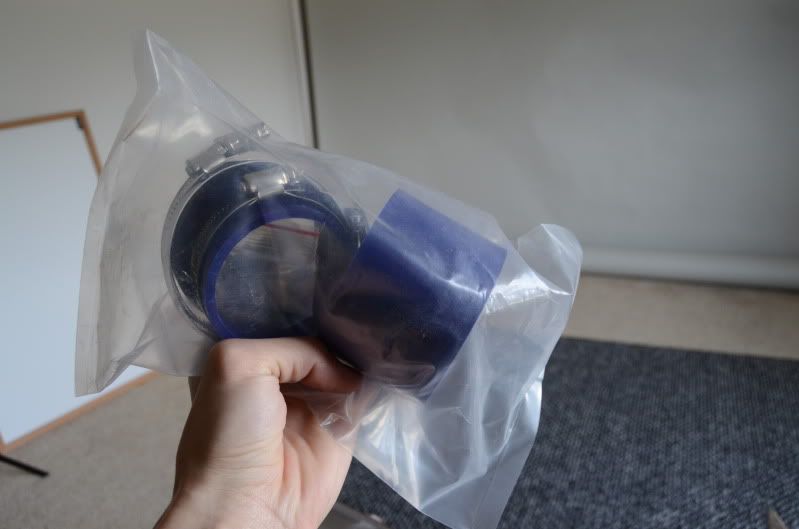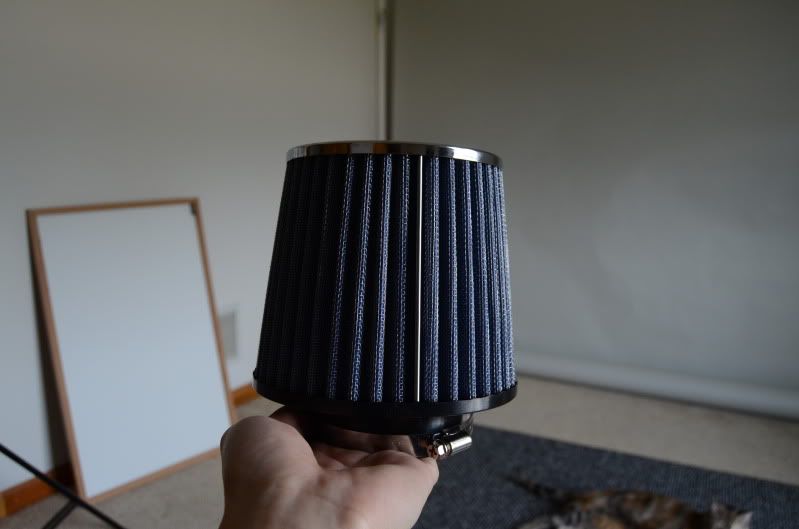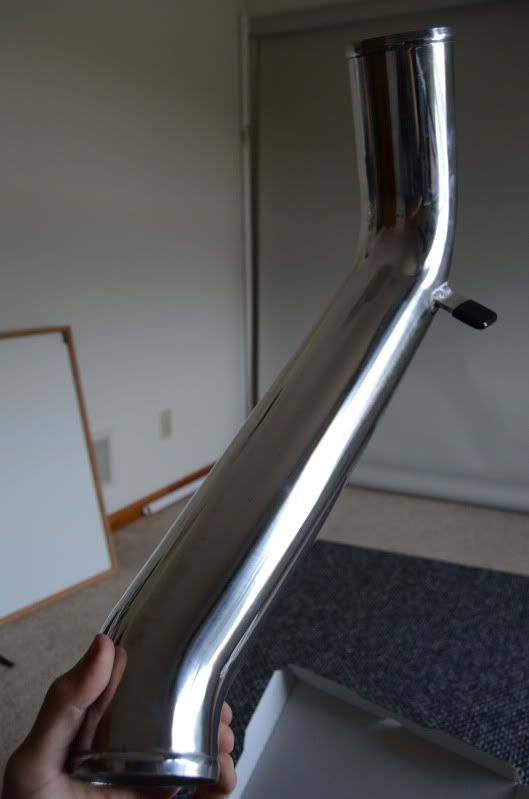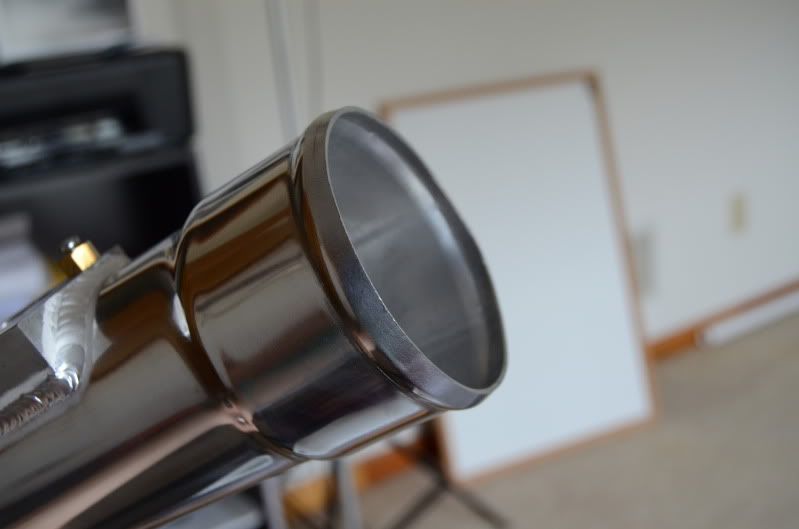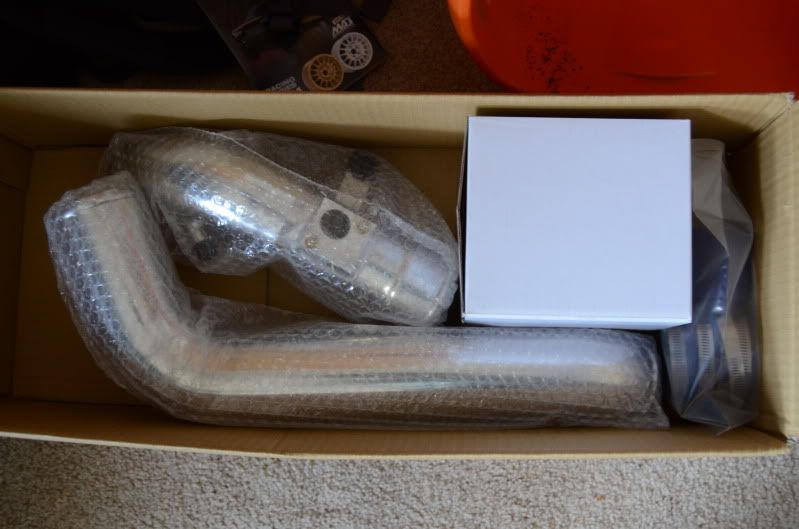 First impressions on ebay cold air intake. I was skeptical of the small plastic piece to "direct" airflow at first, but after looking, each blade is no thicker than a guitar pick. It really doesn't seem to inhibit airflow at all.
The good:
1) sounds amazing, definitely added some top end power.
2) easy installation, same as every other CAI for our cars.
3) $75.00 to the door.
The bad:
1) had to remove the battery to install (not really a "bad" if I'm honest).
2) slight vibration at idle in drive, a small amount of tape where the pipe contacts the frame will fix it.
3) If you don't want your vehicle to sound MUCH more aggressive (only under WOT, sounds stock at idle and putting around town), do not install any of the parts I am reviewing.
4) I now look for a reason to dip into the throttle every time I drive the car.
First drive: wow. Under WOT, the engine sounds VERY deep and throaty(almost reminds me of my 02 spec v). During normal driving (I usually never give it more than 1/4 throttle while putting around town, I cannot tell a difference at all as far as noise. At 1/2 throttle from 2000-3500rpm, it sounds a bit deeper, but the real fun begins at 3500rpm! It literally starts growling! 2nd gear(which seems to be the autos power gear since it will reach 77mph) is a whole new experience! Fitment was spot on, no cel's. I will post an in cabin video to let you all experience the sound from the engine after 4k, it sounds like the engine is trying to climb out through the hood!
All in all, a great buy for the price. It REALLY livened up the engine (I imagine it didn't hurt that the header was already on, which is still doing great), and I would recommend it to anyone. If you are interested, pm me and I will send the sellers ebay name!
I may paint the entire intake pipe with crinkle black grill paint for a less "look at me" appeal and a slight thermal insulation....still not sure.
Installed pics to come in the daylight!
So far, the amount of parts installed on the car (Intake and header) are at an even $200 to my door.
Hopefully the weather cooperates and I can get video of the exhaust with intake/header, as well as intake/header/axleback, and intake/header/vibrant resonator/axleback (if necessary, the scuba IS kind of a giant resonator) this weekend.
So far, it looks like rain, rain and more rain....
Hope you guys enjoy my reviews!
Update, the Cold air intake, header, and axle back exhaust are all working GREAT! NO cel's, MUCH more top end power, and its actually very quiet until you stomp the go pedal.
I paid....$125(header shipped)
$75 (Cold air intake shipped)
$75 (axle back shipped)
______
$275....for all performance bolt-ons!
NO: Exhaust leaks, cel's...or...problems whatsoever.
I have since installed the hotchkis sway bars (to match my hotchkis springs)..and as a matched set, the car handles phenomenally!
Car sounds great! NO rasp, and wonderful as a dd (quiet unless you WANT it to be loud). I will get some driveby video this week. (I had to turn on all of the built in sound buffers just to get the sound of the exhaust...it was extremely windy that day)