We need a nickname for the xB2, besides "round xB" or "xB, gen 2" . . . those suck- period.
What I've come to call the model, after hearing the term from a number of locals is:
Flying Pig
One conversation in particular comes to mind . . .
I was in the mountains and a Honda driver was talking about cars w/ me and kept saying "All Scions are slow, esp. the boxy ones." I argued w/ that pointing out how quick they were on mountain roads. He refused to believe me and said "When pigs fly." Well, we left the gas station and he forced his way out first (as I was expecting). Well, I stayed right behind him and kept running up on him when it got twisty. In a particular double laned-up road section I LOVE, I blew by him on a left curve and left him well in my dust. When I got to a particular pull of I often use to turn back around and go back down, I waited for him to show up. I was OUT of my car and standing there leaning on the side waiting when he finally showed up several minutes later. He slammed his brakes and pulled in there near me. Needless to say I picked up the previous conversation with "You were saying . . . "
Well, he kept going on how Hondas were still better (surprise?), but was nicer to Scions now.
In the course of the conversation, he said:
"I guess pigs fly. You flew by me. Still, it looks like a pig- especially in the front."
I took that as a "badge of honor" and found a flying pig emblem for my side window: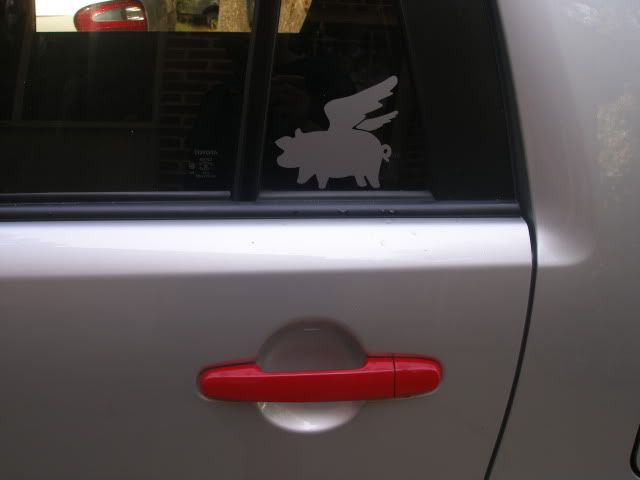 Looking up other info, I recently found out that the nickname for the FJ55 Land Cruiser is the "Iron Pig."
As the styling of the xB reminds me somewhat of a "hot rodded" and modernized early Land Cruiser (non-off-roader), I find that an interesting connection.
So . . .
Whereas we ARE the primary xB2 forum/group . . .
And we have the power to (finally) give the xB2 a nickname independent from the xB1 . . .
I propose we nickname the xB2, as a model, the "Flying Pig."
Connection?: